A meeting will be organised for September / October 2015 with the Senior Captains and Junior Managers / Coaches to discuss and agree a cricketing strategy for the club at all levels and across all age groups for the 2016 season and beyond – more details to follow shortly.
And Finally, RUMOUR MILL……
Apparently a social committee were spotted planning end of season events! Watch this space….!!
MANY THANKS TO ALL FOR A GREAT SEASON & YOUR CONTINUED SUPPORT
LONG LIVE MCC!
NEWSLETTER – May 2015 Issue 1
Chairman's Welcome
A very warm welcome to all our members – old and new – and welcome to the 1st Newsletter for Mold CC – we will aim to publish 3 newsletters each season – the next one at the end of July and the final one in Mid- September.
On behalf of all the committee we wish everyone involved in the club a wonderful summer, with fantastic cricket and for many happy hours in and around the club. I would also like to take the opportunity to thank in advance all the parents, players and members for their ongoing support to the club and hope the 2015 season is a success for the club on and off the pitch
Committee News
After many years of outstanding service to Mold Cricket Club, Roger Griffiths has decided to stand down as Chairman. Roger took over the club when it was in severe decline both in terms of facilities and finances and throughout his role as Chairman along with the club's committee notably Dave Wiseman (Secretary) worked tirelessly to build a community club, significantly improving the facilities and finances, transforming the club into a premier league standard club with an excellent Junior set up. Whilst standing down as Chairman, Roger will still be actively involved in the club and continue to pass on his wisdom to the new committee
2015 Season Committee
Tony Hawkins Acting Chairman
Dave Wiseman Secretary
Andy Evans Treasurer
John Williams Junior Teams Manager
Jon Crane 1st X1 Captain
Jamie Hawkins 2nd X1 Captain
John Millington Child Welfare Officer
Caroline Deniz Fundraising Secretary
Richard Wynn Membership Secretary
Adrian Forster
Richard Crane
Steve Burkhill
Jamie Griffiths
Our Mission and Vision
To foster and grow participation and support for the game throughout our region. developing successful cricketers and teams capable of competing at the highest level.
Be a fully inclusive club – for all the players, parents and members– Inspiring the next generation of cricketers
SENIOR NEWS
2014 saw a number of the "Golden Generation" of players to play for MCC retire having brought success to the club and provided magnificent service to the club over many years. Jamie Griffiths. Cliff Wiseman, Russ Wiseman, Gareth Evans and Dave Soothill – they will all be sadly missed this season out in the middle! This year we welcome Heinrich Botes from South Africa as our overseas player. We hope Heinrich enjoys his stay with us and has a successful season
The 2014 season ended with the 1st Team relegated from the Premier League on the last day of the season and the 2nds finishing mid table in Division 4. The Midweek Team was promoted to Division 4 – the 3rd promotion in a row!
The 2015 Season started with a convincing win for the 1st X1 against Gresford and subsequently the games against Conwy 1st X1; Llay 1st X1 and Bersham 1st X1 cancelled due to rain, The 2nds in Division 4 started their season on the 25th April with 9 points from St Asaph conceding and followed up with convincing wins against Buckley 2nd X1 and Pwllheli 2nd X1
At present the 1st X1 are 3rd in Division 1 and the 2nd X1 are Top of Division 4– obviously a very long way to go!
Our thanks go out to Andy Evans for his outstanding work in preparing the ground through the winter and his tireless work every week throughout the season
YOUNG GUNS……. The 2015 season has seen the club turn to youth with Jon Crane (23) Captaining the 1st Team and Jamie Hawkins (21) Captaining the 2nd Team, Both John and Jamie has come through the club with Jon Captaining the U15's and the Midweek team and Jamie Captaining the U13's and U15's and the 2nd Team towards the end of last season. We all wish both Jon and Jamie and their respective teams every success this season and I am sure we will give them both all our support!
The 1st X1 and 2nd X1 teams are now dominated by youth with over 75% of the squads under 25 – so the future looks bright – and we still have lots of talented players who are over 25 playing!
1st X1 and 2nd X1 - Team Training – Tuesday and Thursday evenings from 6pm (Free Practice Friday evenings)
For all those who wish to come along on a Saturday and support the teams – all games start at 1pm
JUNIOR NEWS
The junior season will soon be upon us again. Although the outdoor season is short the youngsters have kept up their skills with a winter program of indoor coaching sessions having been held at both Mold Sports centre and the Argoed Sports hall in Mynydd Isa. Now the weather and light are with us, training sessions will begin once again outdoor at the club on Friday nights and also on the artificial pitch at the Rugby Club, 6.30-8.00pm.
Registration night for the juniors was FRIDAY 1st MAY. 6.30-7.30pm. There were cricket activities for the youngsters on the night. It was decided by the junior committee that membership for the season will be £45. This covers all club memberships, insurances, match fees, playing shirt and training fees for the outdoor season. Only the first child pays full amount, any siblings get a reduced rate of £25. Paying everything in one go will allow training nights to run smoother and reduce the admin burden on team managers.
NEW CHAIRPERSON! – Following John Millington stepping down from his role as chair of the junior section Jackie Pringle has volunteered to take over the role for the season. Jackie has supported the section for many years and to quote outgoing chairman Millington "is a stalwart of Mold Cricket Club!" She is currently junior treasurer and Under 15s manager so hopefully chairing the section will not put too greater burden on her. Her nomination was unanimously approved by the junior committee. Good Luck Jackie, here's to a successful 2015! Other topics discussed at the meeting were how we can continue to improve and develop the juniors. A commitment was made to purchase a junior bowling machine and new match and practice stumps should be on show for the coming season. The 'MOLD CRICKET' training tops have been a resounding success and can continue to be purchased either from team managers or direct from Forrester Sports. We hope this season to introduce cricket caps which will see our teams take to the field in style, look the part, and play the part! Again, these will be available from the team managers as soon as possible.
The junior fixtures for 2015 are now out and the first month can be seen below along with the details of the people running the team. A full fixture list will be posted in the club.
UNDER 9s – Match day SUNDAY mornings 10.15 start




Lead Coach

John Davies

07787 372854




Team Manager




TBC

10-May

AWAY v Halkyn

17-May

NO GAME

24-May

AWAY v C.Quay

31-May

HOME v N.Hall
UNDER 11s – Match day MONDAY evenings 18.15 start




Lead Coach




Chris Lloyd

07803 124401




Team Manager




Nic McCann

07528 437994

11-May

AWAY v Halkyn

18-May

HOME v Carmel

25-May

AWAY v C.Quay

1-June

HOME v N.Hall
UNDER 13s – Match day THURSDAY 18.15 start




Lead Coach




John Williams

07904 168534




Team Manager




Anne Jones

07970 418599

7-May

AWAY v Carmel

14-May

HOME v St Asaph

21-May

AWAY v Prestatyn

28-May

HOME v N.Hall
UNDER 15s – Match day WEDNESDAY 18.15 start




Lead Coach




John Millington

07713 919201




Team Manager




Jackie Pringle

07853 288719

6-May

AWAY v Prestatyn

13-May

AWAY v C.Quay

20-May

HOME v Northop

27-May

HOME v N.Hall
Match results can be seen by logging onto the club website http://mold.play-cricket.com
and using the drop down boxes on the navigation bar.
We are also hoping to improve press coverage of our junior cricketers this season by issuing a press release to the local papers, if this is something you can help with please contact one of the team managers. Along with a press secretary it can be seen we are in need of an under 9s team manager which is someone willing to co-ordinate the players with regards match information and training etc. Having a team manager is a huge benefit to the team and coach. It has worked very well in recent years with the other teams and so if it is something you can help with, please don't be shy, many hands make light work!
Whilst looking forward to the coming season it would be remiss of us not to mention the end of season awards night held at the club last year. The event was well attended by players, parents and also Mayor of Mold Carol Heycocks. The children enjoyed cricket activities on the outfield and a barbeque before trophies were presented by the clubs South African overseas player JP Van Aswegen. Awards were made for Players Player, Coaches Player, Most improved and Clubman of the year for each age group. Award winners on the night were Under 9s Orla Davies, Ben Edwards, Harrison Heycocks and Noa Grant, Under 11s Jack Jones, Fiontan McCann and Dafydd Thomas Burnett, Under 13s Rhys Hughes, Liam Davies and Callum Hughes, Under 15s Tyler Pringle, Adam Kenny, Aaron Davies and Richard Deniz. Well done to all!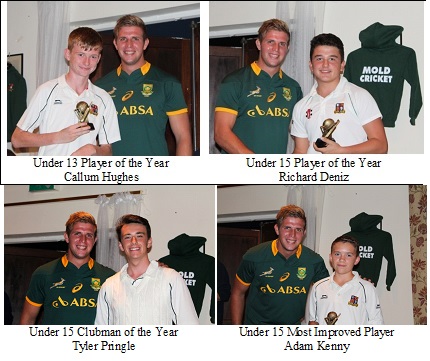 Finally, the juniors are the future of the club and just as more youngsters get involved sadly some grow up and move on to the senior side of the club. This year the juniors say goodbye to Richard Deniz, Sam Thomas, and Tyler Pringle. The three of them have represented the junior section for many years and while it is a shame they can no longer play junior cricket we wish them well as they move on to the seniors.
CLUB NEWS
Andrew Evans has submitted a bid to the ECB on behalf of the club for new covers at a cost of £4000 and this week we have had confirmed that our bid was successful!! – The new covers should be delivered before the end of May
Latest on Sainsbury's – At present no formal planning permission has been submitted by Sainsbury's for the development of the site – however the club are in dialogue with them and we will keep all members up to date
Sponsorship – This year the club has secured sponsorship support from:
Town and Country Estate Agents
Owens Caravan Park
Smith Family Opticians Mold
We are extremely grateful for our entire sponsor's support …. And always keen to expand our sponsor's
MEMBERSHIP
Across the whole club we have at present a growing number of members. As part of the clubs development in 2015 we are building a new membership database which we hope will allow us to improve communication to all our members through e mail, social media and the website.
In recent years we have operated our club on an informal basis, but as we move forwards and to comply with our constitutional, statutory and legal obligations we need to formalize our procedures.
Our junior members already pay an annual membership fee of £45 and accordingly we have decided that all senior members over 18 should pay a membership fee
We propose to introduce an annual "flat fee" of £20 for all members playing and non-playing. This is considerably less than what most other clubs charge for membership. Couples will be asked to pay a combined fee of £20 (£10 each). Under 18's who no longer qualify as a junior (i.e. not eligible to play U15 but under the age of 18 the fee will be £10. Match fees for the senior teams will remain unchanged
.
Club funds will form a crucial component for the development, maintenance and improvement of our facilities both on and off the field of play and hence membership fees will be of great assistance
We hope that all our members will support this initiative. Further details on payment arrangements will be issued shortly.
If there are any questions please direct to Dave Wiseman (Secretary).
E-mail D.wiseman85@btinternet.com
SOCIAL EVENTS and FUNDRAISING
We are starting to plan and organize a number of social events for all the club members across all age groups – and we will publicize more details in the coming month and the next newsletter – and please – if anyone has an idea or "the energy" to be involved – please feel free to contact Caroline Deniz on 07843 392856 or e mail redcal63@gmail.com
Caroline has kindly volunteered to head up our Fundraising and Social events – and is looking for support and volunteers to assist in 2015 and plan for 2016
At present (and more will follow in the coming weeks) we are able to announce two events
Saturday 11th July South African – Family Fun Day (More to follow shortly)
Sunday 13th September Anniversary Cricket Match and Dinner – Mold X1 (2005) vs. Mold X1 (2015) – Celebrate winning the Premier League 10 Years ago
GRANTS
As with all clubs – money is tight and therefore access to grants to support the club maintaining and replacing equipment and facilities is extremely important – so we can ensure we maintain our ground at a Premier League Level – Andy Evans and John Williams are currently in the process of submitting grant applications to Flintshire County Council (Community Chest) and Mold Town Council which if successful will add between £1500 - £2000 to the clubs finances.
There are quite a few grants and bids we can try and tap into – and as such we are looking for a couple of volunteers who would be willing to help us look at submitting grants in the coming months to improve the facilities – both playing and clubhouse – So any volunteers – please do not hesitate to contact us. Nic McCann has already kindly agreed be involved.
2016 – LET'S CELEBRATE………. 150 Years of Cricket at Mold
The 2016 season will see Mold CC celebrate 150 years of cricket which is quite an amazing feat – Obviously we would like to make the most of 2016 and celebrate this achievement both on and off the pitch and in the process really raise the profile of the club
So there is no time like the present - let's start planning now for next year – 2015 has seen a new committee established – BUT we would like everyone to be involved in the preparations and celebrations!!
At present the plans for 2016 are a "Blank Canvas" – we know (at least hope) that there are probably many of our members who would like to get involved for a couple of hours a month – whether it is in fundraising, social events, marketing, IT or just throwing ideas into the pot – We would love to hear from you – so please do get in touch …..WE REALLY DO NEED YOUR HELP AND SUPPORT and are keen to put together a group of people by the middle of the summer to start planning for next year
CONTACTS
If you would like to volunteer in any way or have any ideas or indeed questions please do not hesitate to contact us below
Tony Hawkins 07944 237198 hawkinstonyp@gmail.com
John Williams 07904 168534 Johnaw@hotmail.com
Dave Wiseman D.wiseman85@btinternet.com
And Finally….. Breaking News…..
Congratulations to Gaz Davies – for his OUTSTANDING bowing performance against Buckley 2n X1 for Mold 2nd X1
12 Overs – 7 Maidens – 11 Runs – 10 Wickets
Simply amazing and I'm sure no one will be able to better that performance for a very long time!